Did AFI mismanage Hima Das' injury?
Manglore Today News Network
New Delhi, Sep 19, 2019 : She was away for 45 days and she broke her training and did not do anything. Back pain was not a big issue. She could not train during this period because of her exams. This was in February and March and that has set her back. Otherwise she could have been in the same stage what she was last year. Radhakrishnan Nair, Deputy chief coach, AFI, Yahoo reported.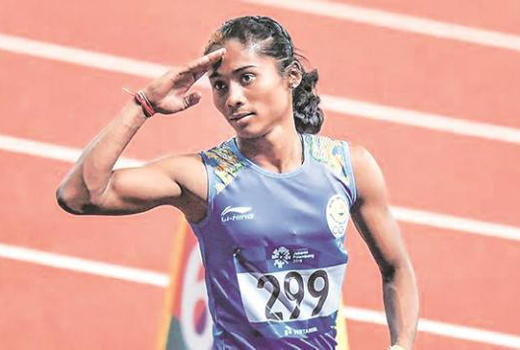 Of course, she continues to have the back issue. That is why coach Galina (Bukharina) made her run these smaller events to access how her back was. It is ok when she is running at a slower pace, the problem is when she is running at a faster pace. We need to see if she can take the strain of a fast run because this is the world championships… Adille Sumariwala, President, AFI

These two pergent views about the status of Hima Das within a span of a month from two officials raises questions whether the Athletics Federation of India (AFI) mismanaged the back injury of the country's track and field star and why she was allowed to continue participating in lower-level meets in Europe despite not being fully fit.

According to Hima, the discomfort in her lower back had begun just before last year's Asian Games. But 12 months on, it only seems to have gone from bad to worse as the World U-20 Champion in the 400 metres was forced to pull out of the biggest track and field meet in the world. She had been selected as part of the 4×400 metre relay teams for the world championships.

All the while, except for a 45-day break which she took to appear for her Class 12 examinations in Feb-March, Hima has been either in training or participating in competitions. In July she had a packed schedule when she was part of the overseas national camp. She entered and won gold in five lower-tier competitions, including in the 200 metres. Last month she won a 300 metre race in the Czech Republic.

During this period, when she bagged gold after gold, she wasn't 100 percent fit and continued to struggle with the back injury, an AFI official confirmed on Wednesday.

She ran these races because the coach Galina Bukharina and the recovery expert at the camp in Jablonec in the Czech Republic wanted to 'access how her back was', Sumariwalla had said on the day Hima was included in the relay squad for the world championships.

The 19-year-old, who was the toast of the nation just over a year back, was clearly not at her best and failed to qualify for the inpidual 400 metres for the World Championships.

How much the fortunes of the 4×400 metre relay squads women and mixed hinged on Hima's fitness can be gauged from the fact that officials and coaches were ready to wait till the day before the event to take a call on Hima's participation. However, the diagnosis seems to be worse than what the AFI anticipated and has put paid to the plans of the relay squads to try and enter the finals.

There have been clear signs of Hima struggling with the back injury this season. On two occasions, at the Indian Grand Prix in Sangrur and at the Federation Cup in Patiala, Hima had to be helped off the track by officials as she was writhing in pain at the end of the 400 metres. In April, at the Asian Athletics Championships, she didn t complete the 400m heats because the back flared up when she was on track. After winning gold at the Federation Cup in March in Patiala, Hima had first spoken about the back injury, which had been troubling her. But when probed further she didn't wish to elaborate.

There has been speculation about why Hima has struggled to post comparable timings after setting the national record of 50.79 seconds at the Asian Games in August last year after her breakthrough performance at the junior world championships.

In March, just before the Federation Cup coach Bukharina had indicated that Hima had lost form and it would take a couple of years for her to get back to her best.

I know she jumped too high in terms of timings according to her age and there were expectations from her. To stay at this height, she needs one or two years of practice again and will have to start from scratch. After all those races and the packed schedule, she decided to sit for her exams… We allowed her a break of six weeks but believe me, six weeks is too much of time in an athlete s career.