Darvesh Yadav Murder: A tale of friendship gone mysteriously sour
Manglore Today News Network
Delhi, Jun 15, 2019 : After attending the ceremonies organised to celebrate her election as the president of the UP Bar Council, Darvesh Yadav was sitting in the chambers of advocate Arvind Mishra with a few friends. They were discussing the ups and downs of the electoral win when one of Yadav's oldest friends Manish Sharma took out his gun and killed her after which he shot himself, Yahoo reported.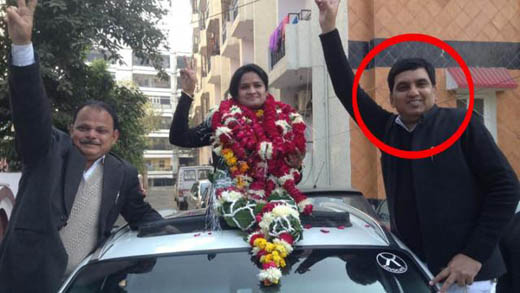 There has been a lot of talk around her murder. Why was she killed? And more importantly, why would Manish Sharma who mentored Darvesh himself, kill her?
Manish Sharma's Entry Created a Hostile Environment in the Chamber

When Yadav entered Arvind Mishra's cabin after partaking in victory celebrations in her honour she was accompanied by her nephew and maternal uncle Manoj Yadav. A dozen other advocates were present.

The atmosphere was pleasant. Everyone was in a happy mood when her old acquaintance advocate Manish Sharma also reached the chambers. Within a few seconds he began to converse with Darvesh's maternal uncle Manoj Yadav when the room began to heat up.

Before one could fully comprehend what was going on, Manish Sharma took out his licensed pistol and first shot at Manoj Yadav. He got saved as the bullet hit the wall instead. After this Manish shot at Darvesh, who was sitting right next to Manoj, four times. She fell on the spot and died. After this Manish shot himself. He is currently in a critical condition and is being treated at Gurugram's Medanta hospital.
Darvesh Became Super Successful at a Young Age

Hailing from Chandpur village in UP's Etah district, Darvesh Yadav's family was not well off. Very early her father passed away which meant the responsibility fell on their mother to bring up Darvesh and two elder sisters.

After studying law from Agra, Darvesh began practicing in 2004. In 2012 she was elected as member of the Bar Council.

As her political footprint began to grow so did her ambitions. In the then upcoming elections of the Bar Council which were held in June, she put forth her claim to be president. She won the election as well. She got 12 of the 24 votes.

While others would take years to accomplish what Darvesh had, she was swiftly accomplishing her ambitions. Radhe Mohan Tripathi, former president of the Varanasi Centra Bar, said, "Darvesh was very hard-working right from the beginning. She had become very popular for her age. Being elected the president of the UP Bar Council reflected this success," he said.
Darvesh's Killer Was the One Who Helped Her Win Big

After completing her law degree, when Darvesh started practising, the same man who shot her, Manish Sharma, gave her the platform.

Manish Sharma is a resident of Gwalior, reportedly financially stable and wields considerable influence in court. It was also through his help that Darvesh was able to make a quick name and dream of becoming the president of the Bar Council.

Due to his political backing and affiliations under the SP government, Manish was also elected the executive council member of the Lucknow Bar Council. However opposition members went to court and got him removed from his post.
For 10 Years Darvesh and Manish Worked in the Same Chamber

It is normal for more than one lawyer to work out of a chamber in Uttar Pradesh where they meet their clients and do their reading. Just like that Darvesh used to sit in Manish's chamber and work for ten years. As time passed, both of them started working together on cases. One can go to the extent of saying that professional rivalry commonly seen between other lawyers did not exist in their relationship.

This friendship is the biggest confusion in the murder today.

Various angles are being investigated including why Manish would shoot himself after killing Darvesh. Was Manish jealous of Darvesh's growing success and popularity?

It is also being said that in the months leading up to the elections they began to talk less and their relationship had soured. The police is investigating the motive behind such an extreme act while the family is demanding a CBI probe.