Covid vaccine could be ready in a few weeks;frontline workers, elderly to get it first, says PM Modi
Mangalore Today News Network / Yahoo
New Delhi, Dec 04, 2020: Prime Minister Narendra Modi on Friday said that healthcare warriors and the elderly will receive the first shot of the COVID-19 vaccine while reiterating that India has 'managed to keep the death rate low'.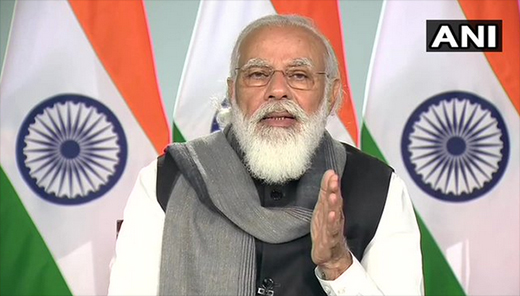 "Our scientists are very confident of succeeding in their endeavour of making COVID vaccine. The world is keeping a watch on the cheapest & safe vaccine. That is why the world is watching India," Modi said.

"Experts believe that COVID vaccine will be ready in the next few weeks. As soon as scientists give a green signal, vaccination will start in India. Healthcare, frontline workers & elderly person suffering from serious diseases will be given priority in vaccination," the PM added.

COVID-19 vaccine will be first given to about 1 crore health workers from both the public and private sectors, and then to about 2 crore frontline workers, the Union Health Ministry said in its presentation at the all-party meet on Friday, sources said.

The presentation was given by Union Health Secretary Rajesh Bhushan at the meeting, which was chaired by Prime Minister Narendra Modi.

In its presentation, the ministry said that COVID-19 vaccine will be first given to about one crore health workers, including doctors and nurses, the sources said.

Thereafter, it will be given to about two crore frontline workers such as police and armed forces personnel, and municipal workers, among others, they said.

"The world is looking for a cost-effective vaccine. There are eight potential vaccines, which could be available and experts say that we don't have to wait for too long for it. Vaccine will first be made available to healthcare warriors, frontline workers and elderly people. Centre is talking to states over price of vaccine and we are looking into the storage logistics. We have managed to keep our death rate low. The Central and state government teams are working in tandem for the distribution of vaccine. India has expertise for vaccine distribution as well as capacity," PM Modi said.

He said, "Teams of Central and state governments are working together for vaccine distribution. India has the expertise & capacity in vaccine distribution & fare better compared to other nations. We've a very big & experienced network in the field of vaccination. We will fully exploit it."

The Centre is in talks with State governments over the price of vaccine and decision regarding it will be taken keeping public health as a topmost priority, said the prime minister.

The meeting also assumes significance as it is being held after Prime Minister Modi's visit to pharmaceutical companies in Ahmedabad, Hyderabad and Pune to review coronavirus vaccine development work there.

Meanwhile, India's COVID-19 caseload rose to 95.71 lakh, while the total number of people who have recuperated from the disease crossed 90 lakh pushing the national recovery rate to 94.20 per cent, said the Union Health Ministry on Friday.

The total coronavirus cases mounted to 95,71,559 with 36,595 new infections being reported in a day, while the death toll climbed to 1,39,188 with 540 new fatalities, the data updated at 8 am showed.