Coronavirus: 505 Cases in 24 Hrs Take India Count Past 3,500, Death Toll Rises to 83
www.mangaloretoday.com
New Delhi, April 5, 2020: As many as 505 new COVID-19 cases have been confirmed, taking the total number of cases in the country to 3,577 and the death toll to 83, the health ministry said on Sunday.

However, a tally by news agency of figures reported by states directly showed at least 110 deaths across the country, while the confirmed cases reached 3,959. Of them, 306 have been cured and discharged.

There has been a lag in the Union health ministry figures, compared to the numbers announced by different states, which officials attribute to procedural delays in assigning the cases to individual states.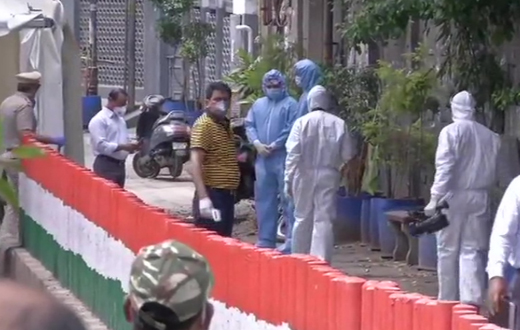 In its morning update, the health ministry had reported 77 deaths in all, and at the 4 pm joint secretary in the ministry Lav Agarwal said 472 new cases and 11 deaths have been reported since Saturday.

News agency ANI quoted the ministry's new figures a few hours later.

The health ministry had also said in its 4 pm briefing that the rate of doubling of COVID-19 cases in India is 4.1 days presently but if the cases linked to the Tablighi Jamaat congregation would not have happened, it would have been 7.4 days.

Talking about the Tablighi Jamaat congregation, Lav Agarwal said, "If the Tablighi Jamaat incident had not taken place and we compare the rate of doubling, that is in how many days the cases have doubled. We will see that currently it is 4.1 days (including Jamaat cases) and if the incident had not taken place and additional cases had not come then the doubling rate would have been 7.4 days."

Asserting that there was no evidence that COVID-19 was airborne, an ICMR official said, "We need to understand that in science whoever does experiments some will have a 'for opinion and some against' but we need to take a balanced, evidence-based approach."

"For example, if it was an air-borne infection then in a family whoever has a contact they all should come positive because they are living in same surrounding as the patient and the family is breathing the same air. When someone is admitted in hospital, other patient would have got exposure (if it was air borne) but that is not the case," the official said.

According to the ministry's 4pm update, Maharashtra has reported the most coronavirus deaths at 24, followed by Gujarat 10, Telangana seven, Madhya Pradesh and Delhi six each and Punjab five.

Karnataka has reported 4 deaths, while West Bengal and Tamil Nadu each have recorded 3 fatalities. Two deaths each have been reported from Jammu and Kashmir, Uttar Pradesh, and Kerala.

Andhra Pradesh, Bihar and Himachal Pradesh each have reported 1 fatality, according to the data.

The highest number of confirmed cases was reported from Maharashtra at 490, followed by Tamil Nadu (485) and Delhi (445). Kerala has 306 positive cases, while the number of cases has gone up to 269 in Telangana and 227 in Uttar Pradesh.

There are 200 cases in Rajasthan and 161 cases in Andhra Pradesh.

COVID-19 cases have risen to 144 in Karnataka, followed by 105 in Gujarat and 104 in Madhya Pradesh.

Jammu and Kashmir has 92 cases and West Bengal has 69. Punjab has reported 57 infections, followed by Haryana at 49. Thirty people are afflicted with COVID-19 in Bihar, while Assam has 24 cases. Uttarakhand has 22 cases, followed by Odisha at 20 cases, Chandigarh at 18 infections, and Ladakh with 14.

Ten cases have been reported from the Andaman and Nicobar Islands while Chhattisgarh has 9 infections. Goa has reported 7 COVID-19 cases, followed by Himachal Pradesh with 6 and Puducherry with 5 cases.

Jharkhand and Manipur have reported 2 cases each, while Mizoram and Arunachal Pradesh have reported 1 infection each.

"State-wise distribution is subject to further verification and reconciliation," the Union health ministry said on its website.