Ayurvedic chicken and eggs should be declared vegetarian: Sanjay Raut of Shiv Sena
Manglore Today News Network
Mumbai, July 19, 2019 : While discussing Ayurveda in the House, Shiv Sena leader and Rajya Sabha MP Sanjay Raut on Tuesday demanded that chicken and eggs be classified as vegetarian. The internet is filled with hilarious memes following Raut's bizarre demand. They want beef and mutton to be added in the list of Raut's vegetarian items. Sanjay Raut on Mumbai Wall Collapse: 'It's Not BMC's Fault, Blame the Monsoon', Yahoo reported.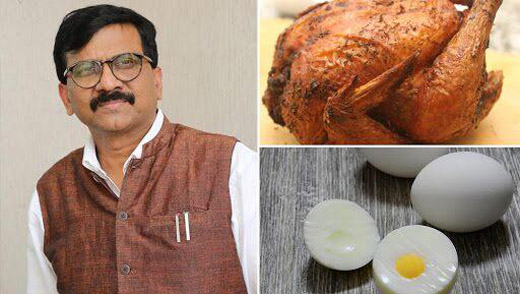 He took everyone by surprise when he said that the Ayush Ministry should decide if the chicken is non-vegetarian or vegetarian. The Parliamentarian demanded at least Rs 10,000 crore for AYUSH.

On Tuesday, the minister cited an example of how the Adivasis as Nandurbar region fed him Ayurvedic chicken, which promises to cure illness. Talking about ayurvedic eggs, he informed that the researchers from Choudhary Charan Singh University are studying on it.

Earlier this month, Raut was in the news after the Malad wall collapse during torrential Mumbai rains, where he made a statement that BMC was not to be blamed for the wall collapse because the entire fault lies in the monsoon.