Ashok Gehlot govt wins motion of confidence by voice vote
mangaloretoday.com/Indian Express
Rajasthan, Aug 14, 2020: The Congress government led by Chief Minister Ashok Gehlot on Friday won the motion of confidence through voice vote. The house has been adjourned till August 21, said Assembly Speaker CP Joshi.

Hitting out at the Opposition over its criticism of the recent political developments in Rajasthan, former deputy chief minister Sachin Pilot on Friday described himself as the strongest warrior of the Congress and said he would protect his party at all costs.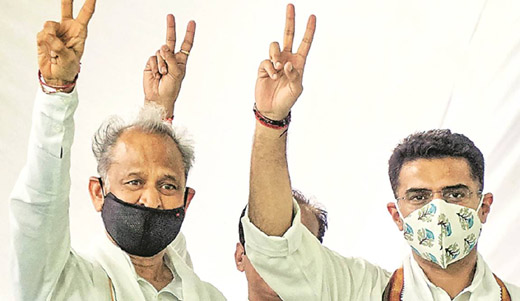 Replying to the debate on the motion, Parliamentary Affair Minister Shanti Dhariwal blamed the Centre for trying to "topple" the governments in Madhya Pradesh, Manipur and Goa, using money and power, but said a similar attempt in Rajasthan would not succeed.

Gehlot has the support of at least 107 MLAs in the 200-member House, while Opposition BJP has 72.

Earlier in the day, Gehlot said it would be "a victory of truth" during the assembly session. "As the Legislative Assembly session begins today, It would be the victory of the people of Rajasthan and the unity of our Congress MLAs, it would be a victory of truth: Satyamev Jayate," he tweeted.

A Congress Legislature Party (CLP) meeting, chaired by Gehlot, was held Thursday to decide a strategy for the session. After nearly a month-long political crisis, the meeting was attended by former deputy CM Sachin Pilot, who had failed to topple his party's government. Gehlot said he would have been able to prove his majority without the support from the 19 rebel MLAs, but "it wouldn't have made us happy".