Amid turmoil in Congress-JD(S) coalition, two Congress MLAs meet BJP leader SM Krishna
www.mangaloretoday.com
Bengaluru, May 26, 2019: Amid speculation of brewing turmoil in the Congress-Janata Dal (Secular) coalition government in State after a severe drubbing in Lok Sabha polls, two Congress legislatures- Ramesh Jarkiholi and Sudhakar reportedly met BJP leader SM Krishna at his residence in Bengaluru on Sunday.

However, Jarkiholi, who is Congress MLA from Gokak said that it was not a political meeting and that he visited Krishna to wish him for BJP's victory in Lok Sabha elections.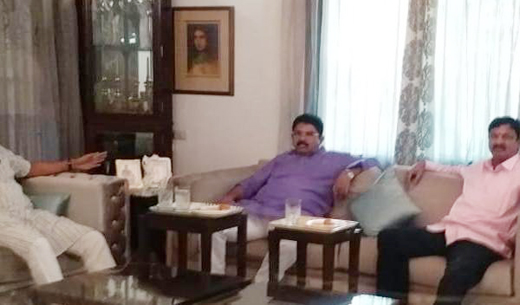 "It was not a political meeting. We wanted to wish SM Krishna Ji after BJP won 25 seats in Karnataka. It was a courtesy call," he said, news agency ANI reported.

BJP leader R Ashok, who was also present at Krishna's residence said that he came to meet the latter to discuss party matters.

According to a report, Jarkiholi had also met two BJP leaders on late Saturday night and discussed strategies to topple the coalition government in the state.

They discussed two ways to collapse the ruling coalition- first, poaching the Congress and JD(S) MLAs and offering them incentives to resign; second, poaching the Congress and JD(S) MLAs and moving a no-confidence motion in the state Assembly.

They are also planning to book a hotel or a resort where the MLAs can be lodged before the trust vote, the News Minute quoted its source as saying.

The Congress-JD(S) combine faced a humiliating debacle in the Lok Sabha elections with the BJP winning 25 of the 28 Parliamentary seats in the state. The Congress and the JD(S) won one seat each.

The BJP, which is the single largest party in the Karnataka Assembly with 105 seats, needs only eight MLAs to reach the majority mark of 113 in a 224-member Assembly.

Earlier on Friday, Chief Minister HD Kumaraswamy brushed aside the trouble in the coalition government and said that the alliance was intact and would stay for long.

Deputy Chief Minister G Parameshwara also asserted that they have the support of all MLAs and that there is no threat to the state government.

"We have all decided to support and continue the coalition government. All our MLAs are with us. There is no threat to the government. Siddaramaiah has also spoken to senior leaders," he had said.

Earlier, former Karnataka chief minister and senior Congress leader Siddaramaiah said that there was no threat to the coalition government in the state.