After landing in India, Nizamuddin clerics reveal they were painted as RAW agents by Pakistani media
Mangalore Today News Network
New Delhi Mar 20, 2017: The two Indian clerics, including the head priest of Hazrat Nizamuddin Dargah, who went missing in Pakistan last week, returned to New Delhi on Monday.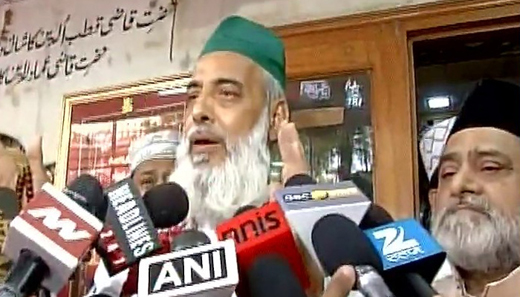 Syed Asif Ali Nizami, 80, and his nephew Nazim Ali Nizami, both clerics of Delhi's Hazrat Nizamuddin Dargah, landed at the Delhi airport on Monday morning and later went to their home. They were welcomed at the airport by their family members and a group of well-wishers.

After landing here, the clerics blamed a Pakistani newspaper for the whole chaos.

Notably, Pakistani newspaper Ummat had reported that the clerics worked for Research and Analysis Wing (R&AW) and Muttahida Qaumi Movement (MQM) movement.

Nazim Nizami, one of the two clerics, told the reporters: "We had gone to meet my aunt who is 90 and lives in Karachi. My uncle met his sister after 26 long years."

"There is a newspaper Ummat (in Pakistan) which has printed false statements (of the two clerics being R&AW spies) and photos."

On the basis of this report, the clerics said they were detained by a Pakistan's law enforcement agency for the purpose of questioning.

They added that no coercion or force was used, reported The Hindu.

The cleric thanked the Indian Government, Prime Minister Narendra Modi, External Affairs Minister Sushma Swaraj, Union Home Minister Rajnath Singh for their efforts.

"Irrespective of our different religions, we all live here peacefully and in harmony. But there are some elements who don`t like this," he said.

The clerics will meet External Affairs Minister Sushma Swaraj at 3 pm.

The duo on their arrival visited the Hazrat Nizamuddin Dargah and were warmly welcomed by the people.

Amir Nizami, the son of Asif Nizami, thanked the Indian government for its intervention in ensuring the return of his father and Ali Nizami.

"Both are fine. We care thankful to the Indian Government for all the support in securing their return," Amir told PTI.

On a visit to Data Darbar in Lahore, the two clerics went missing on March 15.

Subsequently, they were reported to have been found in a remote village of Sindh province with no cell phone connectivity.

Local media reports, citing unnamed sources, said both clerics were traced to Karachi's Nazimabad neighbourhood in rural Sindh where they had apparently gone to "meet their followers, where there was no communication network", which is why they could not inform their relatives about their whereabouts.