African man dies in police custody in Bengaluru, protest at police station turns violent
Mangalore Today News Network
Bengaluru, Aug 02, 2021: The alleged custodial death of a foreign national from Democratic Republic of Congo sparked a protest in front of the JC Nagar police station in Bengaluru on Monday afternoon. The protest turned violent and the police resorted to lathi charge to disperse the crowd. The protesters have been arrested and taken to different police stations in Bengaluru North. The 27-year-old deceased was allegedly arrested by the JC Nagar police on Sunday night and was declared dead while in police custody. He reportedly died of a cardiac arrest around 6:45 am on Monday after he was admitted to a private hospital. The case has been transferred to the CID for investigation.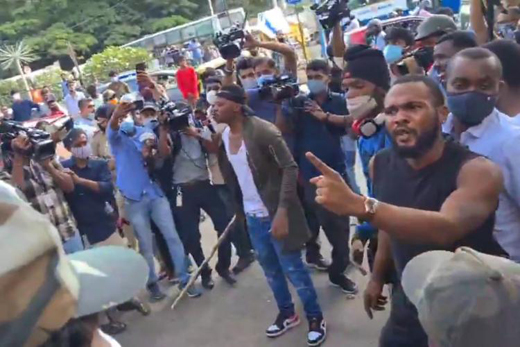 The protest started at 1 pm with around 20 people from several African countries shouting slogans against the Bengaluru police. Within minutes, they were seen chanting slogans of 'Black Lives Matter' and reportedly blocked the traffic with cars, while blaring music. After the first hour of protest, eye-witnesses say that some of the protesters tried snatching the lathis from the police personnel and hurled abuses at them. This allegedly started the lathi charge by the police, which resulted in several of the protesters being injured. Three police personnel too have reportedly sustained injuries and are being treated for the same. A video accessed by TNM shows 4-5 policemen repeatedly beating a protester with their lathis even as he denies having done anything. He is seen bleeding from his head in the video. Soon after, the protesters were arrested and taken away in police vans and a few others were pushed inside auto rickshaws and taken separately to police stations nearby. The Bengaluru Commissioner of Police Kamal Pant said that Joel "experienced chest pain and later died in a private hospital, while under treatment" and that the investigation into the death has been immediately transferred to the CID. By 6 pm, a team of CID officials arrived at the JC Nagar police station to begin recording statements.

DCP North Dharmender Kumar Meena said the victim, identified as Joel, was detained by JC Nagar police in a drug-related offence. Now a case of unnatural death has been registered under section 176 of the CrPC. Joel Shindani Malu aka Joan hailed from Democratic Republic of Congo and had come to Bengaluru on a student visa. "Available information suggests that his student visa expired on 20/07/2015 and passport expired on 13/12/2017. Investigation in UDR No 19/2021 under 176 CrPC is being conducted by PI JC Nagar as per guidelines laid down by Hon'ble National Human Rights Commission (NHRC)," he said.

The DCP further said that a patrolling police vehicle approached Joel at around 12:30 am and one police personnel in civil dress apprehended him. "As Joel was trying to flee, a few small plastic packets containing white color substance fell on the ground which were suspected to be narcotics," he said. The DCP noted that the man allegedly confessed to the substance being MDMA that he had planned to sell. "Another foreign national who was riding the bike escaped during the scuffle," he added.

Speaking to the media, Soumendu Mukherjee, Additional Commissioner of Police, West, said that for over an hour, doctors at the private hospital tried to save Joel, administering CPR but could not save him. "After four to five hours we got his documents. As per NHRC and SC guidelines, we are proceeding," said Soumendu Mukherjee. "Meanwhile, some of his friends came and protested here. Despite the police showing restraint, the protestors started attacking the police. We had to resort to a mild lathi charge. Our sub Inspector and constables also got injured and are receiving treatment," he added.

Courtesy:The Newss Minute