'Mamata Didi gifts me kurtas every year', PM Modi tells Akshay Kumar
Mangalore Today News Network
New Delhi, Apr 24, 2019 : Prime Minister Narendra Modi and West Bengal Chief Minister Mamata Banerjee may be bitter rivals in electoral arena, but off it they share a good relation, this was revealed by the PM in an interview to actor Akshay Kumar, Hindustan Times reported.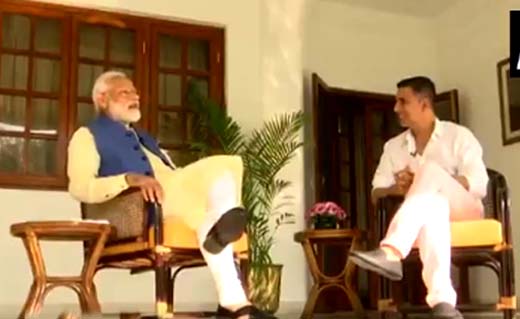 "Despite all the rivalry, didi personally selects and sends me kurtas every year. She also sends me sweets as she knows I am fond of Bengali sweets," the PM told the actor during freewheeling interview on everything except politics.

Both PM and Mamata Banerjee have taken potshots at each other during the campaign for ongoing Lok Sabha elections with Modi calling her 'speed breaker didi' and she hitting back with 'expiry babu' jibe.

PM Modi told Akshay Kumar that when Mamata Banerjee came to know that the Bangladesh PM used to send him select Bengali sweets from Dhaka, she also started sending him sweets.

Elaborating on his equation with Opposition leaders, PM Modi said: "we share good ties". Narrating an incident, he said that once he and Congress leader Ghulam Nabi Azad were chatting in Parliament House for a long time, which surprised many who wanted to know the secret of this camaraderie. "Azad gave a very good reply. He said, 'what you perceive is not correct, we are like a family'", the PM added.

The interview was being conducted at 7 Lok Kalyan Marg, the official residence of the Prime Minister.

Talking about his early family life, the PM said he relinquished everything at a very young age. "I am totally detached now... 'don't waste time on me'".

Akshay Kumar asked PM Modi how he manages to get through the day with just three hours' sleep. To this, PM Modi replies, "Whenever I meet Obama, he also asks me the same thing. He asks me why I do this. Every time he meets me, he asks me if I have started sleeping more or not."

During the course of the interview, Akshay Kumar who asked PM some free-wheeling, light-hearted questions, started off by asking if he liked mangoes, a question his driver's daughter wanted to ask. The PM said he did, but was cutting down on the consumption of this sweet fruit.