'Goli maaro .... ' slogans at Delhi's Rajiv Chowk, 6 detained
Manglore Today News Network / Yahoo
New Delhi, Feb 29, 2020: Chants of "desh ke gaddaron ko, goli maaro ****** ***" (shoot the traitors) were heard inside Delhi's Rajiv Chowk mentro station on Saturday, 29 February, morning. A viral video is being circulated on social media in which people can be heard raising such chants at the metro station.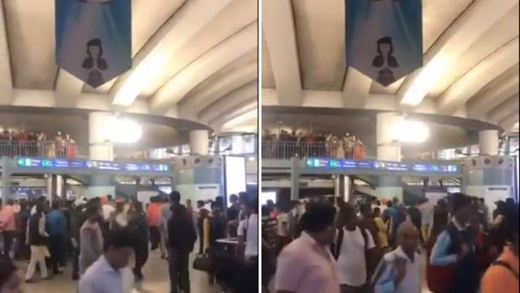 Anuj Dayal, PRO, Delhi Metro Rail Corporation told The Quint that the incident took place at 10:52 am and "DMRC/ CISF immediately handed them over to the Delhi Metro Rail Police for necessary action."

"Under Delhi Metro O&M Act 2002, any kind of demonstration or nuisance is prohibited in Delhi metro premises. Any passenger indulging in such act is liable to be removed from the Metro premises," a statement issued by DMRC read.

DCP Metro Vikram Porwal told The Quint that the police has detained 6 people. "We have detained six boys. We are questioning them," he said.