Thumbay Group's Finance Director Named 'MENA CFO of the Year' at CFO Achievement Awards 2017
Mangalore Today News Network
Dubai, Nov 18, 2017 : Mr. NazeerHussain, Director of Finance & Budget – Thumbay Group, won the prestigious 'MENA CFO of the Year' award for the private sector, at the CFO Achievement Awards 2017 held at JW Marriott Marquis Hotel, Dubai on 16th November 2017. Mr. Hussain, who is also a member of the 'Thumbay Group Board' which implements the group's strategic plans, received the award at a special ceremony organized on the second and final day of the 11thCFO Strategies Forum MENA.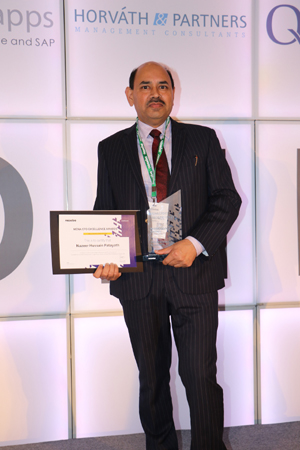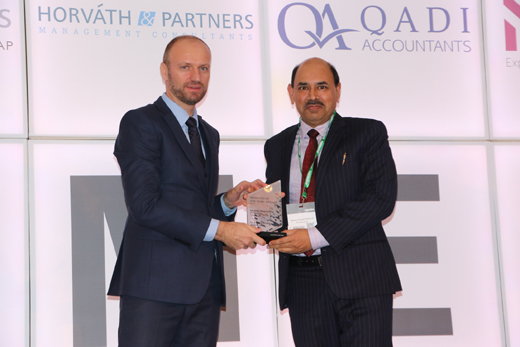 The CFO Strategies Forum commended Mr. Hussain for exceptional performance in leading the finance team during the past year, aligning the finance function with the company's strategic direction, and having a direct impact on its bottom line.Mr. Hussain had won the 'Revolutionary CFO of the Year' award at the forum, in 2015 and 2016.


Congratulating NazeerHussain on the award, Mr. ThumbayMoideen, the Founder President of Thumbay Group said, "It is a matter of great honor that Thumbay Group's forward-looking strategies are being increasingly recognized at global forums, coming at a time when we have entered a very important phase of growth and global expansion. Recognitions like these will definitely be a source of motivation in our journey ahead."


The CFO Strategies Forum is an annual event which brings together over 120 Chief Financial Officers, CEOs and industry experts to discuss industry trends, catalyse the region's continuous growth and provide them with unparalleled networking opportunities. The CFO Achievement Awards recognize the important contribution of CFOs in delivering results and achieving success for their organizations.


About Thumbay Group Established by the Founder President Mr. ThumbayMoideen in 1998, today Thumbay Group is a diversified international business conglomerate with presence across 20 sectors of business including Education, Healthcare, Medical Research, Diagnostics, Retail Pharmacy, Health Communications, Retail Opticals, Wellness, Nutrition Stores, Hospitality, Real Estate, Publishing, Technology, Media, Events, Medical Tourism, Trading and Marketing & Distribution. Thumbay Group follows a strategic plan, according to which the Group aims to expand its businesses over ten times, with global presence. The strategic vision plan aims to increase the employee strength to 25,000 by the year 2022.