President of Dental Council of India Dr. Dibyendu Mazumder Visits Gulf Medical University Ajman
Mangalore Today News Network
Dubai, Feb 11,2017: A high-level delegation of the Dental Council of India, led by the President, Dr. DibyenduMazumder visited Gulf Medical University (GMU), Ajman on Wednesday, 8th February 2017. The delegation was received at the University by Mr. ThumbayMoideen, Founder, President of Board of Governors of GMU, in the presence of Prof. Gita Ashok Raj – GMU Provost and the Deans of various colleges under GMU.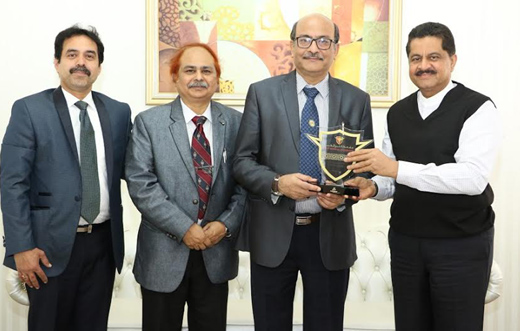 The delegation was presented with the vision and mission of GMU, and they toured the educational and research facilities in the campus, particularly the Dental College and its labs including the Simi Lab, as well as the various medical labs of the University, the Center for Advanced Simulation in Healthcare (CASH) and the Center for Advanced Biomedical Reasearch& Innovation. They also visited the different ongoing projects in the campus, like the 350-bed academic hospital, 60-chair dental hospital and the rehabilitation center.

The delegation held a discussion with the Academic Team of GMU's College of Dentistry, on prospective opportunities for mutual cooperation. They also visited Thumbay Dental Hospital in Dubai, which is affiliated to GMU.

Dr. DibyenduMazumderexpressed his admiration for the unique vision and strategies, and the facilities of GMU. "The facilities at GMU are truly impressive. The University has many innovative teaching and training facilities like CASH and CABRI, as well as a very good library. We are happy to learn about the new 60-chair dental hospital being built in the University campus, and the vision to make it a Center of Excellence and a state-of-the-art facility for clinical training," he said.The delegation thanked Mr. ThumbayMoideen for inviting them, and for the warm hospitality.