Patronal Feast of St. Joseph's Parish, Monrovia, Liberia celebrated with great jubilation
Mangalore Today News Network
Liberia: May 4, 2014: Sunday the 4th of May, 2014 was a moment of Grace, Celebration and Thanksgiving for the parishioners of St. Joseph's Parish, Monrovia as they celebrated the Patronal Feast in honor of St. Joseph, the worker.

The annual feast of St.Joseph was celebrated with great enthusiasm. This year the celebrations were held in the auditorium of Don Bosco Technical High School, Monrovia as the new church of St. Joseph is under construction. The parishioners had been preparing and looking forward to this annual celebration were extremely happy to be inspired by the days events.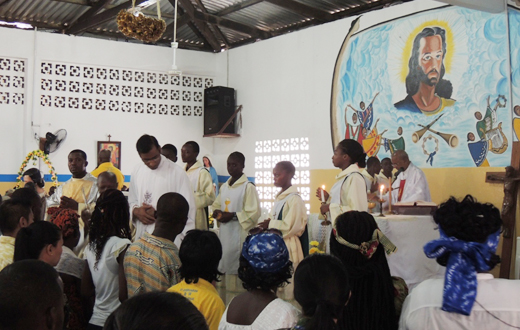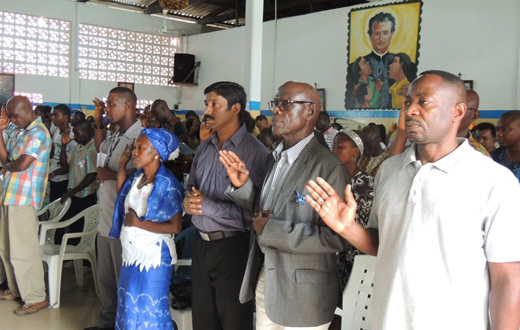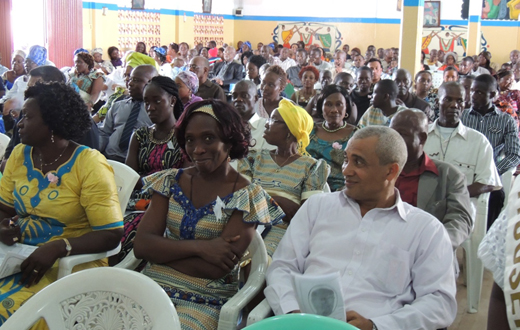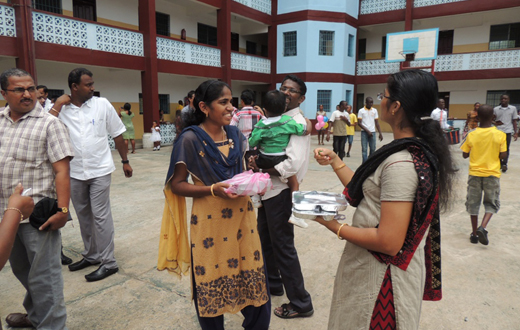 Rev. Fr. Francis Lyall, the Rector of St. Paul's Major Seminary, Gbarnga Liberia celebrated the Solemn High Mass with other concelebrants. In his homily he highlighted the role played by Saint Joseph in the history of salvation. St. Joseph was attuned to the Word of God and was committed to it. A humble carpenter, he assumed this great responsibility with deep faith and love. Despite the many obstacles he faced in this Fatherhood that God placed on him, he was always faithful to his responsibility St. Joseph is an inspiration and his life should continue to challenge us day by day in our commitment to God and one's neighbor.

The second part of the days programme was a cultural lunch. St. Joseph's parish has members from almost all the continents and this is because of the United Nations presence in Liberia. There was a sumptuous spread... the Filipino's came with a special speciality... last year it was pork. The Liberians with their palm butter, the Nigerians with fun fun and egusi soup, the Indian Community with chicken biryani, the Togolese with their French a la carte...those of Ghana..... guess what ? Moi Moi... Sierra Leone...jole of rice with potato leaves sauce.....

For the children they had a lighter menu with soft drinks, chocolates, biscuits, pop corn and ice cream.. this was follow by indoor and outdoor games and quizzes.... while the festivities in progress, St. Joseph's was blessed with some heavy showers ... there shall be showers of blessings and such was the day with blessings from heaven and solace to the day of heavy activities... all went home thanking God for having given so many blessings. The day's programme ended with distribution of prizes for the games conducted.

Rev. Fr. Sony Pottenplackal SDB, Rector and Principal of Don Bosco Technical School Monrovia, Rev. Fr. Lionel Xavier SDB, Parish Priest, Rev. Fr. Daniel Libby SDB, Salesian Brother Cornelius, Senator Cletus Wotorson, Senator John Ballout, Mr. Neto Liegh, Deputy Minister for Labour, Mr. Chris Wallace, Deputy Minister for Planning & Economic Affairs Cllr. Jallah A. Barbu, Chairperson for Law Reforms Commisison of Liberia, Mr. Ambrose Nmah, Director General of Liberia Broadcasting System, Mrs. Abla Gadegbeku Williams, Executive Director of the Liberian Refugee Repatriation and Resettlement Commission (LRRRC), Diplomatic Ambassadors, Govt Officials and many others from different nationalities were present on the occasion.