Muscat Accident: Indian Social Forum wins legal fight claiming Compensation to a Mangalurean's
Mangalore Today News Network
By Abdul Mubarak Karaje

Muscat, Sep 10, 2017: Indian Social Forum Muscat Karnataka Chapter finally succeeded in releasing compensation to family of a young man named Mustafa of Bantwal who died in a road accident at soor jaalan Oman's capital Muscat on May 28, 2015.

A check of Rs 25,16,866 has been remitted to the orphaned family as a result of the legal struggle of the Indian Social Forum for two years. The deceased Mustafa's mother, Beefatima, assured the Indian Social Forum delegation that she had joined the check checks on August 31, 2017.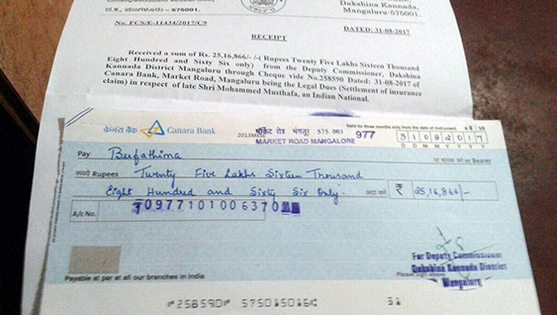 The deceased Muhammed Mustafa had a sister and a sick mother. Mustafa came to Oman's Muscat for the job, the only support for the poor family.

He had died on the spot in a car accident in 2015. Despite the government leave, due to continuous effort of Indian Social Forum the dead body of Mustafa reached his home town Parlia within 2 days.

The Indian Social Forum, who filed the necessary documents for the compensation amount of the deceased, has been continuously referring to the officers, the ambassador's office and the insurance company's lawyer and it was holding legal battle.

Similarly, Indian social forum had coordinated at hometown to get all the necessary documents and records needed from Mustafa's home to get the compensation amount. Now there has been a victory and positive result to the Indian Social Forum's continuous effort.

Nazir Kodimbadi, Anwar Moodabidri and Salam Thumbe had taken charge of Indian Social Forum's legal battle in this case.