Monthi Fest Celebrations at Damascus Gate - St Saviour's Church
Mangalore Today News Network
Jerusalem, Sep 14,2016: The Konkani speaking Catholics of Coastal Karnataka and Goa, residing in Jerusalem, celebrated the feast of the Nativity of the Blessed Virgin Mary on Saturday, the 10th of September. A gathering of almost 400 people, mostly from Jerusalem, gathered near Damascus Gate for the Blessing of the new corn.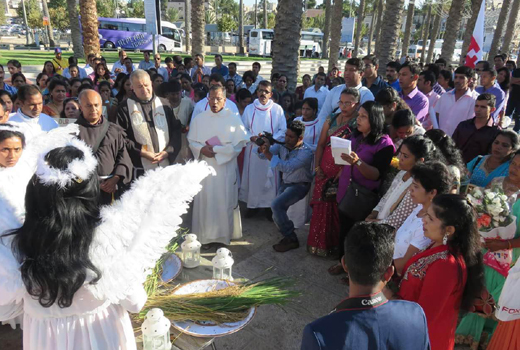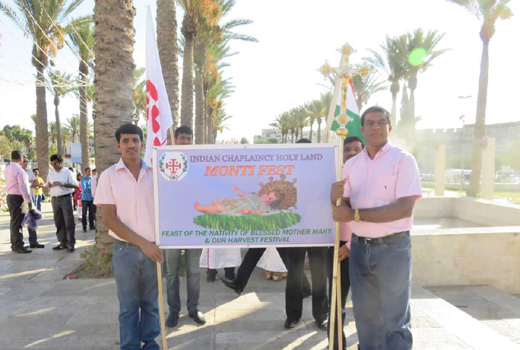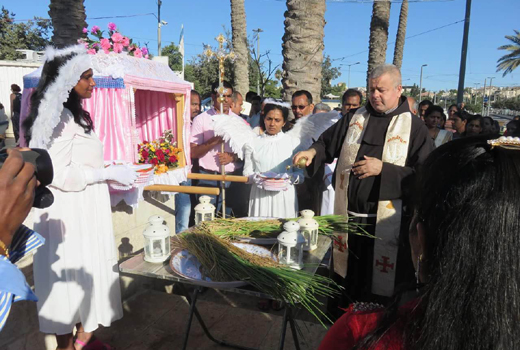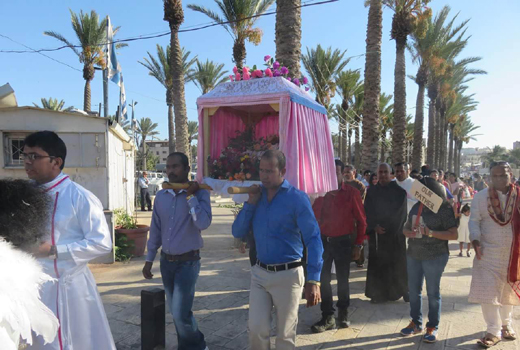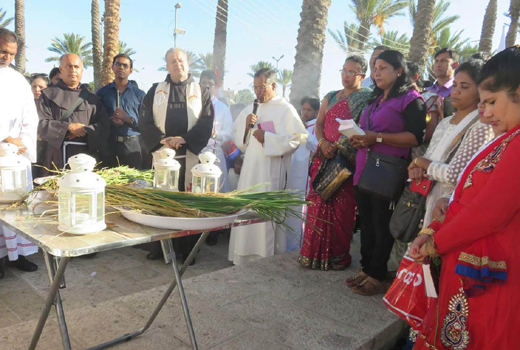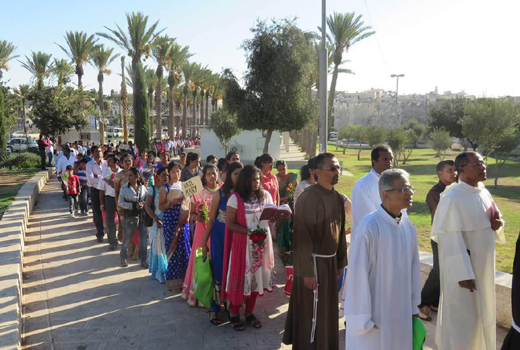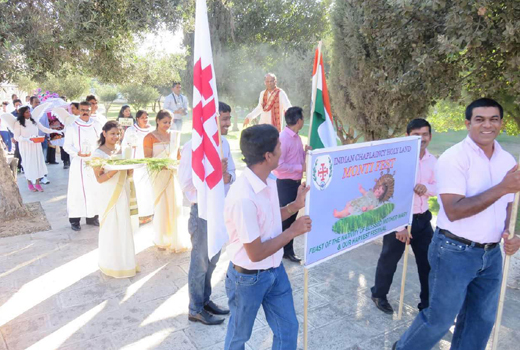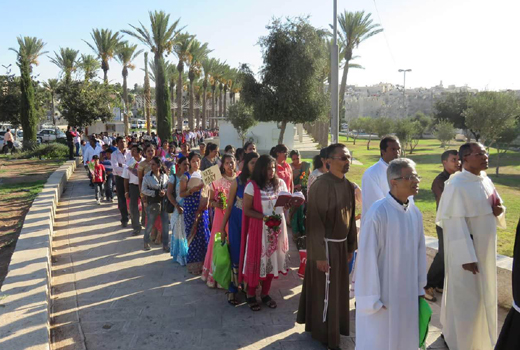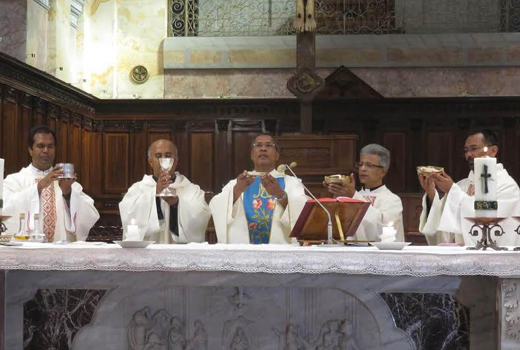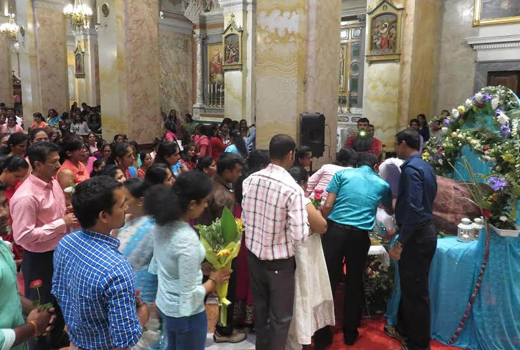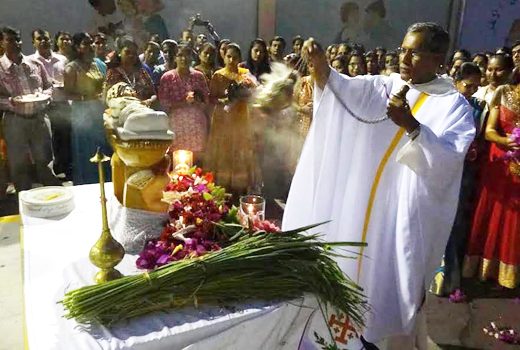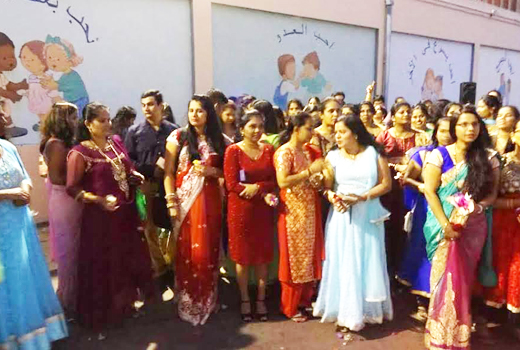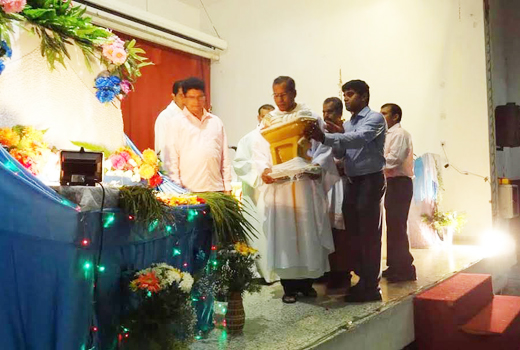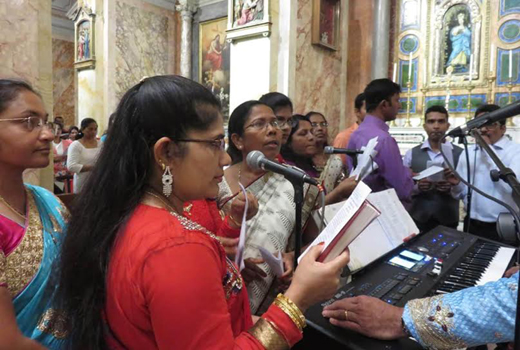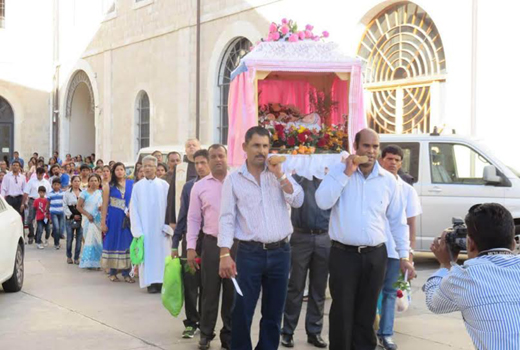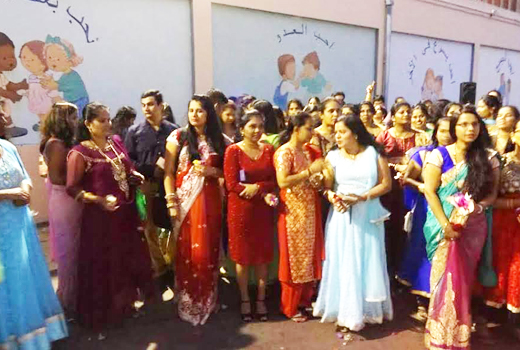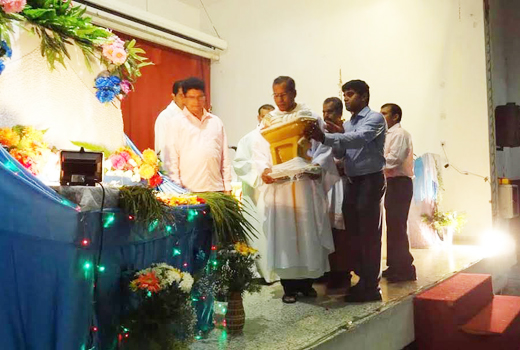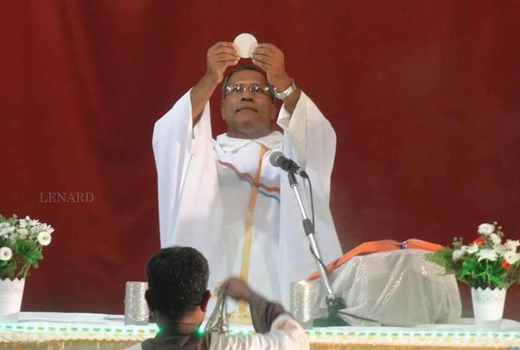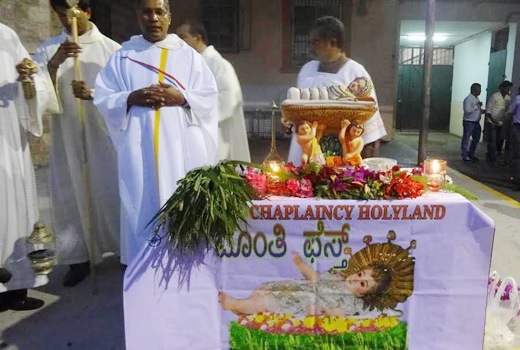 The Parish priest of St. Saviour's church, welcomed the gathering and blessed the new corn. Then the gathering took a procession to St. Saviour's Church, carrying the statue of Infant Mary, with new corns and flowers, reciting Marian hymns. The Solemn Mass was presided by Fr. Dominic Mendonca OP, Professor at the EcoleBiblique in Jerusalem and concelebrated by Fr. Toji, the Chaplain of Indian Catholics in the Holy Land, Fr. Matthew Cutino SDB, Fr. Jose Kumar and Fr. Kevin OFM cap.

In his homily Fr. Dominic highlighted God's abundant generosity in giving us the rich harvest and in gifting us Mary, the mother of God. He exhorted the people to practice the virtue of generosity in imitation of the Blessed Virgin Mary. Generosity can be shown not only through material things but also and more so in acceptance, understanding and forgiveness in the family.

The baptism of Sherwin Samuel, the baby of Wilma and Sunil Dsouza, added more solemnity to the feast. The melodious choir helped the people to experience the joy of Monti fest. Rev Fr. Toji thanked all those who helped to make the Liturgy truly festive and solemn. At the conclusion of the mass the statue of Mary was venerated and flowers were offered. After the mass there was a short cultural Programme which ended with the traditional vegetarian meal.


Monthi Fest Celebrations at St. Joseph's Church, Haifa The Konkan Catholic community of Haifa celebrated the feast of the Nativity of the Blessed Virgin Mary on the same day, 10th of September, at 7 pm. Almost 300 people gathered on the ground of St. Joseph's Church, Haifa, for the blessing of the new corn. After the blessing and prayer to Infant Mary, flowers were offered to Mary in a traditional way with the singing of 'MoriyekHogolsiam'. Then the people took a procession to the Church, carrying in veneration the statue of the Infant Mary.
The Solemn Eucharist was celebrated by Fr. Dominic Mendonca OP. In his homily he emphasised on Mary's faith and compassion. He exhorted the listeners to love, live and transmit our Christian faith which was handed down to us through the great commitment of Mary, the Apostles and our forefathers. The choir made the celebrations lively and meaningful by their excellent singing. The coordinator of the committee, Leonard, thanked everyone who contributed to organize the festive Liturgy.