Kuwait : 'Nirel' Tulu Movie Release In Kuwait On 6th & 8th June At Al Ajial & Fanar Theatres
Mangalore Today News Network
Kuwait, Jun 3, 2014 : 'NIREL' the first International Tulu Movie which has made waves across the globe is all set to release in Kuwait on Friday the 6th June, 2014 in Al Ajial Theatre with 2 shows at 3.30 PM & 6.30 PM and thereafter on Sunday the 8th June, 2014 in Fanar Threatre with one show at 6.30 PM .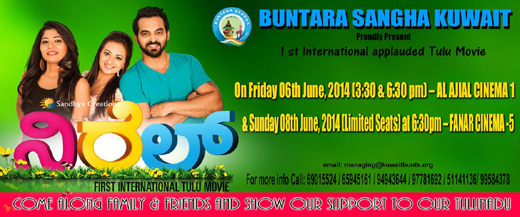 After successful full house shows in Dubai, Abu Dhabi, Muscat, Bahrain and 63 days continuous run in India, the much awaited and talked about Tulu movie 'Nirel' is moving towards Kuwait where the ardent supporter of Tulu, Bantara Sangha Kuwait under the leadrship of President Guru Prasad Hegde and well known businessman Satish Shetty Nakre have come forward to host the show to the Tulu movie lovers in Kuwait. Suresh Shyam Rao Neramballi, Pandari Shetty & Sashi Shetty Balkunje have also joined hands in supporting release of NIREL in Kuwait.


'Nirel' a triangular love story, produced by Shodhan Prasad, along with co-producer, San Poojary have given opportunity to many amateur artistes of Tulunadu working in UAE to feel the filmdom. Already all the artistes who worked in NIREL are recognized and have made a name for themselves with their acting skills and presentation. The 'Made in Dubai' NIREL has a big contribution of Catholic Community in the star cast who are very well known in UAE circles.


The movie directed by Ranjith Bajpe will also hit theatres in Doha Qatar very soon. The music of NIREL has been composed by Abhishek S N, and the songs have already become a super hit. Sameer Mhatre, Aditya Kudalkar and Swapnil Digde have beautifully arranged and programmed the music. Rajneesh Amin is the Art Director and Sachin Padil is the Assistant Director along with the Team members consisting of Ashwath Samuel as Editor, Mani Kookal Nair being the Director of Photography with Neha Bangera & Ramya Rajneesh Amin as Assistant Directors.

Star Cast

The main star cast consists of lead actor Anoop Hemachandra, heroines Varuna Shetty and Deepthi, Deepak Paladka, Subhash Bangera, Rajendra Pai, Anand Salian, Vidya Shivkumar, Nindiya Prasad, Sandhya Prasad, Vishwapathi Bhat, Ravi Moleyar, Jameel Sheikh, Donald Correa, Praveen D'Souza, Vikram Shetty, Joel, Claudy, Samantha Hegde, Sanmatha Hegde, Poorvi Karkera, Srilatha Hegde, Charisma Poojary, Leena and Yogita Salian. There are many more who have appeared in various short scenes in the movie, including special appearances by Sandalwood star Ramesh Arvind in a very important scene along with actress Ria D'Souza in a scintillating scene.


Shodhan Prasad, San Poojary and the entire Nirel team are requesting the Tuluvas of Mangalore living in Kuwait to come in large numbers for the release of the movie in Kuwait and show their solidarity and support to Tulu language and make 'Nirel' a grand success. Come along with your family & friends and show our support to our Tulu Nadu.


For more info Call:

69015524 / 65945161 / 94943644 / 97781692 / 51141136/ 99584378

Email: managing@kuwaitbunts.org