Indian airlines to add more flights to and from UAE
Mangalore Today News Network
July 13, 2019: To fill the gaps created by Jet Airways' grounding, Indian carriers will soon add more flights to and from the UAE - much to the relief of expats in the country.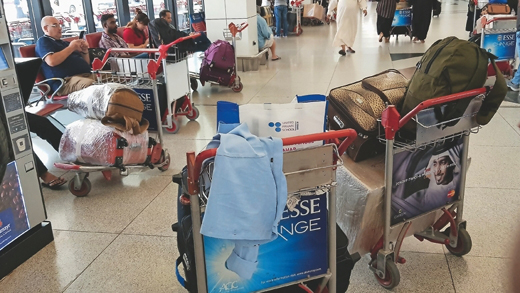 Air India (AI), SpiceJet and GoAir have confirmed they would increase their frequencies and introduce new routes between Dubai and a number of Indian cities.

India's flag carrier, AI, recently announced the introduction of flights from Indore to Dubai on July 15 and Kolkata to Dubai on July 16. Its Dubai-Kolkata flight will begin from July 15.

The new flights are part of the additional seats allocated after Jet Airways' collapse.

The airfare between Dubai and Indore were approximately Dh1,050 and Dh1,200 is the fare to Kolkata.

A SpiceJet spokesperson also confirmed to Khaleej Times that the carrier would be starting an additional flight between Mumbai and Dubai.

"We will operate one daily additional flight from Mumbai to Dubai, which is seven flights a week from August 3," the spokesperson said.

With the latest announcements, UAE residents are hoping that fares would drop.

Gina Mathew, a schoolteacher in Fujairah said: "We are a family of five, and we live in Ernakulam, Kerala. My husband and I both work, yet we cannot afford tickets every year for all three of our kids due to soaring prices. Our company does not even give us the money for it."

Gina and her husband are expecting that the additional flights would at least stabilise ticket prices, especially during the peak season.

Anand Menon, a sales professional from Sharjah, said he spends Dh5,000 every year on air tickets to Calicut in the south Indian state of Kerala.

"Sometimes, we take flights to Mumbai and then take domestic flights to the south. But this impacts our luggage," he said.

GoAir is also introducing flights between the UAE, GCC and India. In the previous quarter, the airline launched Abu Dhabi and Muscat flights to and from Kannur in Kerala. From next week, it will also connect Abu Dhabi with Mumbai and Delhi.

"At the end of July, GoAir will be launching Kannur-Dubai flights and next month, it will start the Kannur-Kuwait flight. Out of these flights, only Kannur-Dubai flight is in lieu of Jet Airways, and GoAir will be offering 1,604 seats per week on these routes," a GoAir spokesperson said in a statement to Khaleej Times.

waheedabbas@khaleejtimes.com