India Fraternity Forum organize Hajj Volunteer Reception at Riyadh
mangaloretoday.com
Riyadh, Sept 21: India Fraternity Forum, Regional Committee, Riyadh organized Hajj Volunteer Reception at Al-Ryan Auditorium, Batha in Riyadh for Hajj volunteer who participated in Hajj 2019

India Fraternity Forum Hajj Volunteers Riyadh Captain welcomed all the guests. Event was presided by India Fraternity Forum Regional President Mr. Ilyas Sayd Mohammed and in his notes he highlighted importance of the Hajj volunteer activities and the program inaugurated by our guest Mr. Mohammed Saad Tarin, General Manager, Leyton Contracting Co.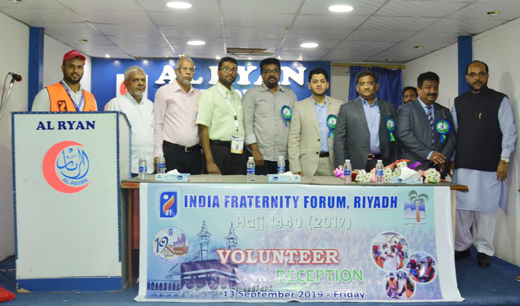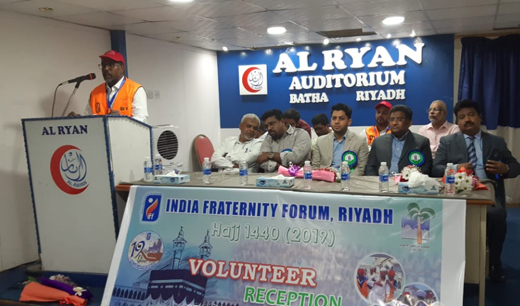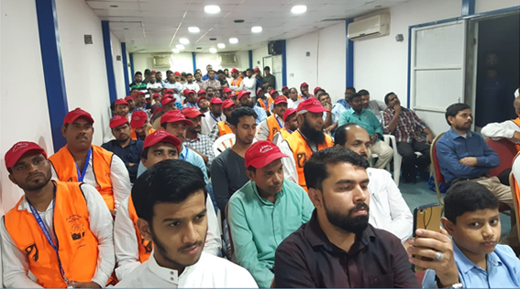 The video of the volunteer's field work 2019 in Makkah, Arafah, Mina and Madinah at the event captured the hearts of the viewers.

Hajj volunteer Captains from Bihar, Telangana, Karnataka, Tamilnadu and Kerala states share their experiences to the gathering and how it feel when they get the blessings from aged hajis. Mr. Muneeb shared his experience of service in "Arafa Day".

Speaking on the occasion to the gathering our guests Mr. Nayeem, Andra Pradesh, General Manager, MASAH Co., Dr. Ashraf Ali, Telengana Forum, Mr. Abdul Kader, Business man from Karnataka, Mr. Shahul Hameed, President, Tamilnadu Islamic Federation, Mr. Akhtar Ul Islam Siddiqui, General Secretary BISWAS appreciated the volunteer services and praised services. And they highlighted Those who are coming to perform Hajj are guests of Allah and serving them means is to serving Allah.

Finally, India Fraternity Forum Hajj Volunteers Riyadh vice Captain Mr. Abdul Rauf Karanataka concludes with vote thanks to all the guests, officials and hundreds of Hajj volunteers and Indian citizens who attended the event.