ICAI Abu Dhabi elects new managing committee for 2020
Manglore Today News Network
Abu Dhabi, Feb 29, 2020: The Abu Dhabi Chapter of the Institute of Chartered Accountants of India, or ICAI, has elected its new managing committee for 2020 during its recent annual general meeting.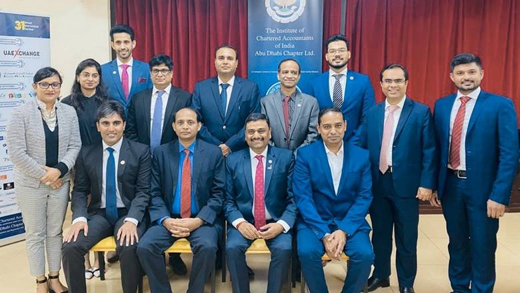 The ICAI Abu Dhabi Chapter, at its 35th annual general meeting held recently elected CA Neeraj Ritolia as Chairman, CA John George as Vice Chairman, CA Krishnan N V as General Secretary and CA Rohit Dayma as the Treasurer.

Other members elected to head the main committees are CA Ajay Singhvi (Professional Development Committee), CA Anand Gupta (Media and Student Affairs), CA Priyanka Birla (Social), CA Rajesh Reddy (Communication) and CA Rajiv Datar (Membership).

The sub-committee members elected are CA Mohammed Shafeek, CA Swati Gupta, CA Shafeekh Neelayil, CA Ramesh Dave and CA Anu Thomas as support to the main committees.

The chairman CA Neeraj Ritolia acknowledged the immeasurable contributions made by the past chairmen and highlighted the selfless contribution and dedicated support of CA Ganpat Singhvi to the chapter. He also laid down the objectives of the newly-appointed committee in his first address to the members.

CA Neeraj said that the new team is very capable and talented and will be bringing in world-class speakers to Abu Dhabi. CA Neeraj also reiterated the core objective of the chapter to provide continuing professional education to its members which is of high priority for the committee.

The outgoing Chairman, CA Aashish Bhandari in his emotional farewell note thanked all the members and the committee for their tremendous support to him during his 13 years in the committee and specifically n his two years of Chairmanship.

The Chapter has been awarded Special Recognition Award from the parent body ICAI (New Delhi) for spearheading the NARIC certification and jointly working with ICAI Delhi for the enhancement of the accountancy profession in the UAE. The chapter also received the Best Chapter Award 2nd place in category 1.

The ICAI is the second largest accounting body in the world and currently has over 300,000 members. The Abu Dhabi Chapter is one of the most active among the 34 overseas chapters of the institute.

The Abu Dhabi Chapter has been in existence for the past 35 years and currently comprises of about more than 800 members. The chapter is earnestly involved in enhancing and updating the professional knowledge of its members through organising professional seminars.
Courtesy:Khaleejtimes