Gulf Medical University establishes 'BA Center for Online Health Professions Education and Training'
Media Release
Ajman, Aug 26, 2020: The board of trustees of Gulf Medical University (GMU), Ajman have established a new centre for online health professions education and training, with the aim of extending world-class health education to health professionals, individuals and communities worldwide. The new centre has been named 'BA Center for Online Health Professions Education and Training,' in honour of renowned Indian businessman and philanthropist, the late Dr B Ahmed Hajee Mohiudeen, founder of BA Group India, an honorary doctorate recipient of the university and father of Dr Thumbay Mohiudeen, founder, president board of trustees, Gulf Medical University.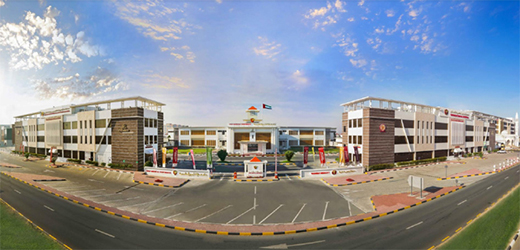 Speaking about the new centre, Dr Thumbay Moideen, founder, president board of trustees, GMU said, "BA Center for Online Health Professions Education and Training has been created with the vision of enhancing the skills and knowledge of healthcare professionals and to improve health outcomes in different parts of the world. The centre has been named after Dr B Ahmed Hajee Mohiudeen in remembrance of his support to medical and health professions education."

Prof Hossam Hamdy, the chancellor of GMU and member-secretary of the board of trustees said that the new centre would design and deliver online professional education to medical professionals, students and individuals around the world, through a range of certificate programs. "It is envisioned as a global centre for extending our expertise and knowledge to learners around the world. The centre will be a platform for professionals and learners to connect and interact between themselves as well as with the faculty and experts of GMU."

The first and only private academic health system in the Middle East region, GMU has made several contributions in medical education, healthcare and research. It has established collaborative partnerships with over 70 international universities and institutions and has students from over 86 nationalities studying at its campus in Ajman for various undergraduate and graduate programs. With six colleges, 26 accredited programs and a network of teaching hospitals within its academic health system, it is uniquely positioned to transform advances in academic and research into tangible health benefits.