Gulf Medical University Celebrates Two Decades of Excellence in Healthcare, Education & Research
Mangalore Today News Network
Ajman, Nov 06, 2017: Gulf Medical University (GMU), the leading private medical university in the Gulf region celebrated its entry into the 20thglorious year of excellence in education, healthcare and research, with a special ceremony at the campus in Al Jurf, Ajman on 5th November 2017.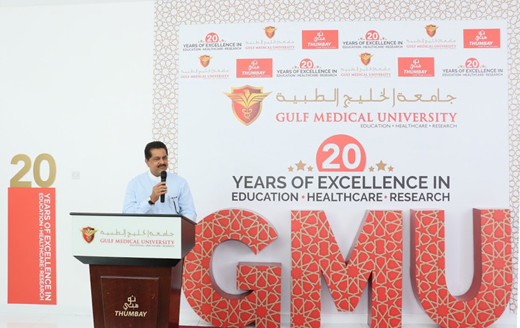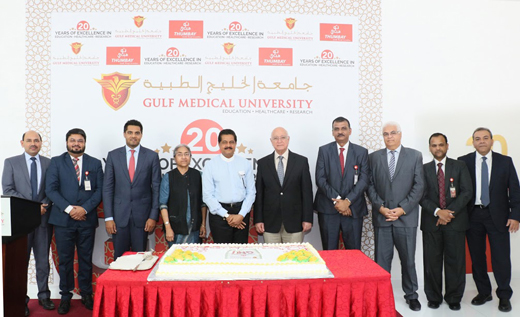 The celebrations were attended by Mr. Thumbay Moideen – Founder, President Board of Trustees of GMU, Prof. HossamHamdy - the Chancellor of GMU, Mr. Akbar Moideen Thumbay – Vice President of the Healthcare Division of Thumbay Group, Mr. AkramMoideen Thumbay - Director Operations of the Construction & Renovation Division and Director - Thumbay Technologies, as well as other members of Thumbay Group Board and Deans, faculty members, staff and students of GMU.

The celebration was an occasion for not only reflecting on the achievements of the past, but also an opportunity to showcase the University's future directions and aspirations. Remembering his experiences transforming GMU into a hub of medical education for students from 80 countries, Mr. Thumbay Moideen said, "Gulf Medical University's 20 years of existance is a significant milestone in our history and growth. This is an opportunity for us to reflect on and be proud of our rich past, and look forward to exciting future opportunities, as we continue to develop into a global destination of excellence in education, healthcare and research. Together, let us take GMU to greater heights."
The Celebration marked a milestone in GMU's history as it prepares to enter the most exciting phase of growth and expansion. According to Thumbay Group's strategic plans, the Gulf Medical University is to see a major increase in its facilities, soon. A 500-bed academic hospital, an advanced rehabilitation hospital – the biggest of its kind in the region, and a 60-chair dental hospital; all under the Healthcare Division of Thumbay Group are nearing completion in the University campus and will significantly increase the training facilities for the students.

Moreover, GMU will soon launch innovative new programs at Bachelor's and Master's levels and PhDs. While maintaining its specialization in the health industry, programs in Health Economics, Health Management, Environmental Health and Biomedical Engineering are under development in order to be offered jointly with leading universities from USA like Virginia Commonwealth University (VCU), Medical College of Wisconsin, University of St. Joseph's – Connecticut and other reputable universities in the region.
GMU expects to triple the size of its students over the coming five years, by creating a hybrid educational environment between the sustainable trajectory of our core programs and the disruptive new technology in maximizing the value of online education. The only way to achieve our goals is through expanding our geographic footprints and online technologies.
Further, Thumbay Group also plans to open three new campuses in three different countries, shortly. The Thumbay network of academic hospitals plans to have a total of 1000‬beds in the UAE, ‬1500‬beds in India and 750‬beds elsewhere in the Gulf and Africa by 2022, ‬taking the total number of hospitals to 15‬worldwide.‬‬‬‬‬‬‬‬‬‬‬‬‬‬‬‬‬‬‬‬‬‬‬‬‬‬‬‬‬‬‬‬‬‬‬‬‬‬‬‬‬‬‬‬‬‬‬‬‬‬‬‬‬‬‬‬‬‬‬‬‬
Speaking on the occasion, Prof. HossamHamdy said that the completion of two successful decades provides a useful perspective to look back over the efforts undertaken so far and the results achieved till date. Thanking Mr. Thumbay Moideen for his visionary leadership, the Chancellor said,"We have new responsibilities to shoulderand opportunities to explore, as we aspire to emerge as the most preferred destination for education, healthcare and research."
About Gulf Medical University
Owned by the Dubai-based diversified international conglomerate Thumbay Group, GMU was established in 1998 by the group's Founder President Mr. Thumbay Moideen. It was the first university in the region to accept students of both genders and of all nationalities in all its departments which focus on three main fields: medical education, healthcare, and research. The GMU is a leader in medical academic establishments in the Gulf region, with advanced infrastructure and facilities. Some of its world-class facilities and institutes include: the Research and Innovation Center, Thumbay Institute of Precision Medicine and Transitional Research (TIPM & TR), Thumbay Institution of Population Health and Policy and the Thumbay Institute of Healthcare Workforce Development and Leadership.
It has students from 80 nationalities and faculty/staff from over 25 countries. It also has a well-organized alumni network of highly placed healthcare professionals throughout the world. The University organizes international and regional conferences and seminars in all medical fields.GMU's courses include Medicine, Dentistry, Pharmacy, Nursing, Physiotherapy, Laboratory Technologist, Anesthesia & Surgical Technologist, Imaging Technologist, Public Health and the Transnational Collaboration – ADCPS.