Get a Free Medical Second Opinion at Thumbay Hospital Ajman
Mangalore Today News Network
Ajman, Aug 10,2017: Thumbay Hospital – Ajman, one of the leading academic hospitals owned and operated by Thumbay Group will be offering free Medical Second Opinion service from 1st to 31st August 2017. The initiative aims to offer accessibility of Thumbay Hospital's expert doctors and world-class medical facilities to patients desirous of clearing their doubts about the treatment that they are receiving in any other hospital or from any other doctor.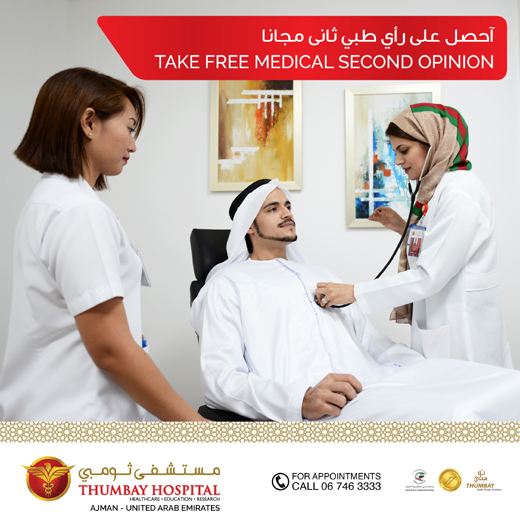 The free second opinion will be given by the hospital's top specialists across various departments. The second opinion will help the patient with a thorough evaluation of the primary diagnosis, either confirming or correcting it and providing additional information if any.

Mr. Akbar Moideen Thumbay, Vice President of Thumbay Group's healthcare division said that the free Medical Second Opinion was in line with Thumbay Group's commitment to offer high-quality healthcare at affordable costs. "Medical second opinion is a valuable resource when a patient is faced with difficult health circumstances or is unsure about the appropriate treatment option. We welcome one and all to experience the expertise of Thumbay Hospital's doctors and our state-of-the-art facilities and equipment," he added.

The free Medical Second Opinion can be availed by patients visiting the hospital for the first time this year as well as new patients who don't have a file with the hospital. Patients referred internally are not eligible for the service. Patients must present the complete set of medical reports issued by the other hospital/doctor, for reference.

About Thumbay Group's Healthcare Division

Thumbay Group's healthcare division presently operates academic hospitals in the UAE (Dubai, Ajman, Fujairah & Sharjah) and Hyderabad – India, as well as a network of day care centers and state-of-the-art family clinics at various locations in the UAE, making it the largest network of private academic hospitals in the region. All the hospitals and clinics provide clinical training for the students of Gulf Medical University (GMU), the leading private medical university in the region owned by Thumbay Group. They treat patients from over 175 nationalities, and are staffed by doctors, nurses and technicians from over 25 different countries, speaking more than 50 languages.