Body & Soul organisesAnnual Fun Run 2017to spread awareness about lifestyle-related diseases
Mangalore Today News Network
UAE March 5, 2017:With a motive to spread awareness about various lifestyle-related diseases, a special fun run was organised by Body & Soul Health Club and Spa in Ajman, on Friday, March 3. 2017 at 6:30 am.

The marathon aimed to engage the community to participate in a healthy and fun event topromote healthy lifestyle practices and underline the importance of regular physical activity among the residents of the UAE.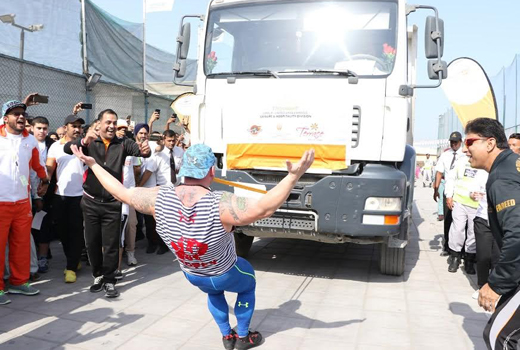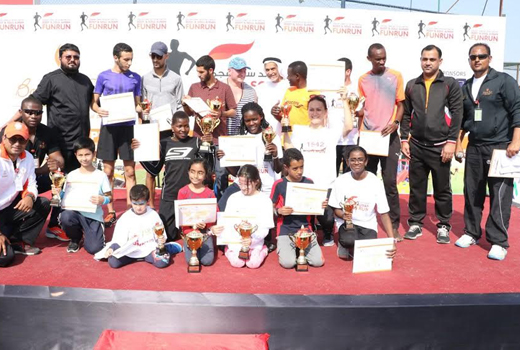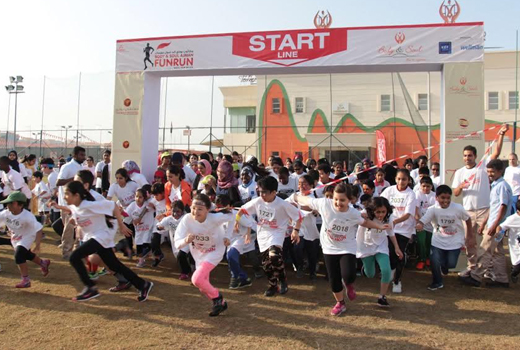 An initiative conceptualized by the founder president of Thumbay Group-Thumbay Moideen, the annual fun run was organized for the ninthconsecutive year this time. The race was flagged off by the chief guest of the event, Prof. Gita Ashok Raj, Provost of Gulf Medical University (GMU).
Races were held in the following categories: Individual (men/women), family members, Corporate/Group and Special Needs Runners. Prizes included cash awards, trophies and certificates. The total value of cash prizes distributed was more than Dhs.10,000. Raffle draw prizes and certificates of participation were also given away, in addition to free Fun Run t-shirts to all participants. Around 1000 people registered for the event. Besides the regular races, various fun activities such as aerobics & cycling studio demonstration, face painting, balloon folding, spinning and zumbawere also conducted.

Adding another highlight to this annual event was the action-packed stunt of the 'Hungarian Strongman', who demonstrated his daredevilry by pulling a truck with his teeth!
Ensuring heightened security in the fun-filled event, the Ajman Police supported the drive by patrolling the race route. Mr. Farhad C, Director of the Hospitality Division of Thumbay Group felicitated Ajman Police by awarding mementos, certificates and medals to all the patrolling officers.

"The Annual Fun Run is a day of fun, camaraderie and fitness. Men, women, kids from all age groups have joined this marathon and are extremely glad to participate in the run with faces gleaming with joy. We are delighted to host an event that collectively boosts healthy diets and physical activity amongst the UAE residentsand creates awareness in a way that people can enter the conversation safely and happily in a fun-filled environment," said Mr. Farhad C, Director of the Hospitality Division of Thumbay Group. He added that Thumbay Group was committed to raising awareness on health, wellness and fitness, among the public.
The event was further supported by the General Authority of Youth & Sports Welfare – UAE, Ajman Police and the UAE Sports for All Committee. Thumbay Clinic, KEF Holdings and Vitabiotics Wellman were the sponsors. Certificates of appreciation were awarded to representatives of the event supporters and sponsors.

Prize Winners of Annual Fun Run 2016 - Ajman:
• Men 7km: Winner – Samir Jouaher, 1st Runner Up – AnouarElghouz, 2nd Runner Up – ElassaouiNoaman
• Ladies 4km: Winner – EuuterTanui, 1st Runner Up – Baako Joyce, 2nd Runner Up – Nadia
• Boys 4km: Winner – Moaman, 1st Runner Up – Majis, 2nd Runner Up – Abdullah
• Girls 4km: Winner – Harshini, 1st Runner Up – Nawal, 2nd Runner Up – Kritika Vijay
• Corporate Team Race 7km: Winners – Michael, Paul, Majib; Runners Up – Mohammed, Ovazzin, Yahya.
• Company/Corporate Winner (Largest No. of Participants): Technical Metal Est.


About Body & Soul Health Club & Spa

Body & Soul Health Club & Spa is an award-winning network of health clubs operated by the Hospitality Division of Thumbay Group – UAE. Body and Soul currently has five health clubs in the UAE, including 'elite' and 'ladies only' clubs. They offer extensive sports, recreation, fitness, health, social and youth programs. Body & Soul's facilities, infrastructure and operating standards are at par with the international standards of health clubs, and are manned by highly trained, certified instructors. Body & Soul is all set for a massive expansion in line with Thumbay Group's strategic plans, which would see an addition of 100 new family-centered health clubs by 2022.

For media enquiries, please contact:
Samar Manzar | samar@promotions.thumbay.com|0557715643
Shaj Hameed| shaj@promotions.thumbay.com| 0504874786