20 Indian expat boys in UAE spread the cheer through rare hair donation drive
Mangalore Today News Network
Dubai, Sep 22, 2021: From a three-year-old to teens, around 20 Indian expatriate boys in the UAE participated in a rare hair donation drive in Dubai on Tuesday, which, the organisers say, was a first-of-its-kind initiative.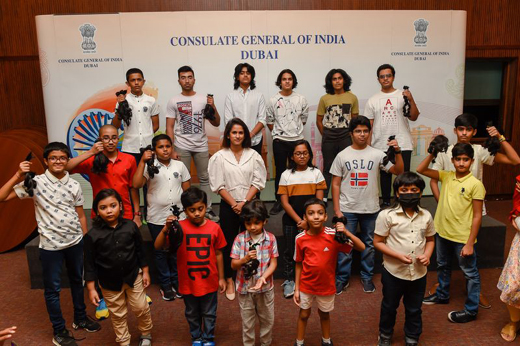 The tiny tots and the tall teens travelled from different emirates across the country to the Indian Consulate in Dubai to attend the event organised by the Hair for Hope Foundation-India.

While some are still growing their hair for donation, most of the boys, who were present, had already chopped off their manes and were proudly displaying them.

Five of them handed over their ponytails directly to Nadiera Senali Veedu, a cancer patient. "Donors in India already have the option of donating directly to a patient. But this is the first time it is happening here," said Premi Mathew, the founder of the Hair for Hope Foundation-India and the Protect Your Mom campaign. Mathew himself is also a cancer survivor.

Live hair-cutting session

Dr Aman Puri, the Consul-General of India in Dubai, honoured the boys, who donated their locks, while Consuls Tadu Mamu and Jitender Singh Negi took part in a live hair-cutting session of three-year-old boy Taksh Jain.

Message with a difference

Nadiera, 36, whose inspiring story of battling cancer twice — once while she was pregnant — was published in Gulf News on Sunday. She said she was happy to be a part of the event to appreciate the boys' efforts. "This is the first event where I am seeing boys are growing their hair to donate them to those in need. So, I wanted to be a part of it and appreciate this initiative."

Azad Anantha Sherif, 17, who came all the way from Abu Dhabi, said he also had to face some opposition from his school in growing hair. "It is not allowed for boys to grow hair in many schools here. But, I think schools should give some exemption if the boy students really want to donate their hair. It is not easy for us to maintain it. But, the cause is above all that," he said.
Courtesy:Gulf News