12 Indians among 17 people killed in Dubai bus accident
mangaloretoday network
Dubai, June 07: There were 12 Indians among the 17 people killed in a bus accident in the United Arab Emirates, External Affairs Minister S Jaishankar confirmed on Friday, 7 June. The bus was on its way to Dubai from Oman when the accident took place.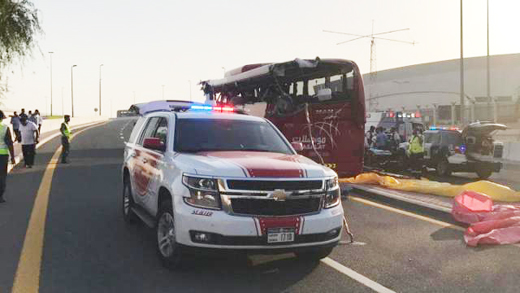 Earlier during the day, the Indian consulate in Dubai had said that among the 17 people killed in the accident on Thursday, 6 June, eight were Indians.

"We are sorry to inform that as per local authorities and relatives it is so far confirmed that 8 Indians have passed away in Dubai bus accident. Consulate is in touch with relatives of some of the deceased & awaits further details for others to inform their families," the consulate said in a tweet.

The Indian Consulate in Dubai had initially given the number of deceased Indians as six but later updated the number as the death toll went up.
Names of Deceased

Following are the names of the deceased, as announced by the Consulate General of India:

Mr Feroz Khan Pathan
Mrs Reshma Feroz Khan Pathan
Mr Deepak Kumar
Mr Jamaludeen Arakkaveettil
Mr Kiran Johnny
Mr Vasudev
Mr Tilakram Jawahar Thakur

Mr Sanjeev Kumar, an Indian Consulate Officer is the point of contact for those wanting to know more about the accident: +971-504565441. The helpline number is +971-565463903.