Why Arvind Kejriwal gains from sending Somnath Bharti 'on leave'
mangaloretoday.com / India today
New Delhi, Jan 22: "We are newcomers in politics. We'll make mistakes and learn from them," said Aam Aadmi Party leader Arvind Kejriwal days before he was to take oath as the chief minister of Delhi.

These were the words of a total novice, who claimed he was in politics to sweep it clean. A novice who struck just the right chord with the people of Delhi as also elsewhere. A simple man who made people sit up and take notice.

After decades of putting up with political leaders they saw on TV, some lucky ones being occasional witness to their motorcades zipping past them, people saw somebody in politics who did not wear the token khadi. He dressed like the common man and drove a blue WagonR.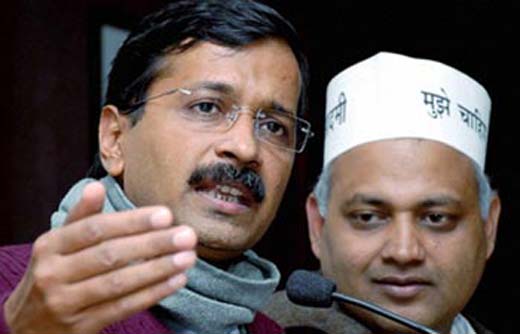 With many novelties Kejriwal brought into electoral politics, he made history in the national capital and won himself a place in the hearts of people.

That place, the goodwill he has earned for himself, should not be taken for granted. The thumb rule of politics, impermanence, applies to him in equal measure.

The tepid public response his two-day sit-in demanding the suspension of four Delhi Police officials received must not be taken lightly. Coupled with this is all the bad press he is getting all of a sudden.

People in the street might not have lost all hope with Kejriwal as yet, even that will not be long if he does not get his act right.

What he must realise foremost is that his party fell short of the mandate to govern Delhi. The opportunity he eventually got was a godsend and he needs to make the most of it. Jan Lokpal Bill, the rehabilitation of slum-dwellers, night shelters, swaraj, sanitation and waste management, education-there is so much still remaining of what he promised to voters.

There is no harm in a chief minister taking to the street on an issue which affects his people. The BJP and the Congress are aghast for reasons they must know best. It is certainly not unprecedented. In 2006, BJP's development icon and Gujarat Chief Minister Narendra Modi had sat on a fast amid fear that the UPA's report in the apex court might halt the construction of the Sardar Sarovar dam in his state. In his 51-hour fast, Modi was accompanied by 3,000 others, including state BJP chief Vajubhai Vala, several ministers in the Modi cabinet, party office-bearers, leaders from various districts, representatives of the chambers of commerce and several non-government organisations.

The issue of bringing Delhi Police under the state government is of paramount importance to the security of residents here. It has been stuck somewhere between official rigmarole and vacillating governments for years now. The light of day is not yet in sight.

But the administrative issue is technical in nature and can be resolved only in due course of time. For now, enough has been conveyed.

What is more important right now is his own credibility among his voters. Kejriwal wanted the Malviya Nagar SHO suspended (he was eventually sent on leave) because he argued nobody can be sitting over evidence that might or nor incriminate him. That logic applies to the Law Minister equally. Even if we believe Somnath Bharti was doing everything right that fateful night in Malviya Nagar, he did not do it the right way. His subsequent comments on Arun Jaitley and Harish Salve are in bad taste and prove beyond doubt he can serve the AAP best when rested.

Sending Bharti "on leave" will establish once again the supremacy and earnestness of Brand Kejriwal. More importantly, if Kejriwal is here to sweep politics clean, a speck of dirt on his own shirt is unacceptable.

Last but not the least, Kejriwal's vision should not be narrowed by the 2014 General Elections. He might make a mark in the Lok Sabha polls, there is little chance it will make much of a difference. But then, 2014 is not the end of road for him, it is the beginning.